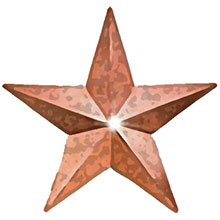 "In the evening,
the red rocks
just glowed in
the setting sun.
Soaking in the
hot tub with
a nice glass of
wine and that
beautiful view
was amazing!"
Copper Star
Beautiful and peaceful with outstanding red rock views, this Sedona vacation getaway home is perfectly located Uptown, near to restaurants and shopping and within walking distance to trails and local history. Copper Star offers comfortable accommodations for up to six, and makes it easy to live like a local in style!
A stylish Uptown Sedona home, Copper Star is a rising star on the Sedona vacation rental market. From its beautifully landscaped enclosed rear yard, six-person hot tub and outstanding red rock views, to plentiful comfortable seating to take it all in, you are instantly at home and are ready to relax.
Whether visiting alone, making it a couple's retreat or a getaway with the girls or the whole family, Copper Star provides ideal accommodations for up to six, with three bedrooms and two full baths.
Enjoy this one of a kind, home away from home, on your next Sedona vacation. See you soon!